The Church of Our Lady and St. John the Evangelist, Dervock
To cater for the Derrykeighan side of the parish, a church was built in Dervock in 1840, at a cost of £80, and it served the parishioners well until its demolition in August 2000, to make way for a new church.
This present church, blessed and dedicated on Sunday 1st April 2001, stands on the site of the former church and school, the visible sign of the proud tradition of the faith of the people of Ballymoney and Derrrykeighan.
Although all the fittings are modern and belong to the 21st century, the style is traditional, and repeats in a modern form the ways of worship to which most of us are accustomed, and with which we feel comfortable.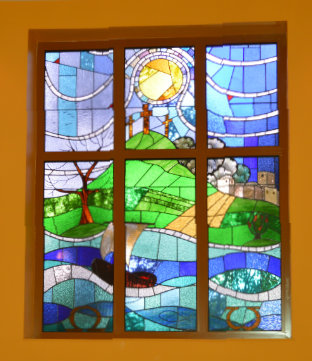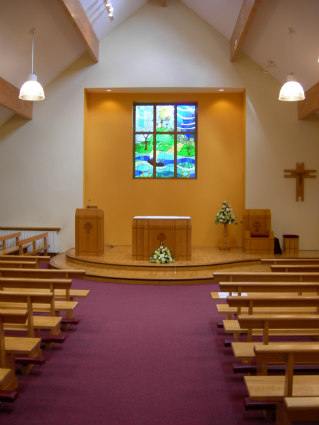 The large window behind the altar is a 'creation window', symbolically depicting the presence of God in all of creation: earth, sea and sky.
The swirling pattern in the sky represents the Holy Spirit.
The sun represents Jesus, God and man.
The cultivated fields remind us both of the farmland around this church, and the wheat fields and vineyards of the Gospel.
Other symbols, dear to Christians of all ages, are clearly visible, eg. the fisherman's boat, the alpha and the omega, the hill of Calvary.